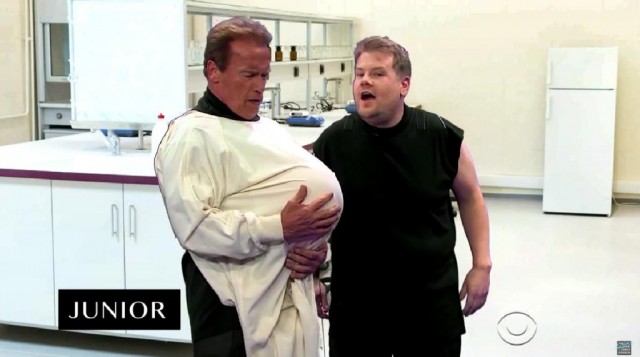 Arnold Schwarzenegger, a 67 anni suonati, continua a trasudare superiorità: ospite del The Late Late Show, insieme al conduttore del programma, il comico James Corden, Schwarzy si è esibito (e divertito) in un mix lungo 6 minuti in cui ha ripercorso tutti, ma proprio tutti, i ruoli in cui lo abbiamo visto sul grande schermo.
Da Conan il Barbaro ad Atto di forza, da Terminator a Un poliziotto alle elementari fino a Commando e True Lies, l'ex governatore della California, che rivedremo nei panni dell'androide che lo ha reso famoso in Terminator Genisys (atteso entro l'anno), ha dato come al solito prova della grande ironia che lo ha reso simbolo non solo dell'action-movie ma anche di produzioni più leggere a stelle e strisce.
Ecco l'esibizione di Schwarzeneger con James Corden al The Late Late Show.