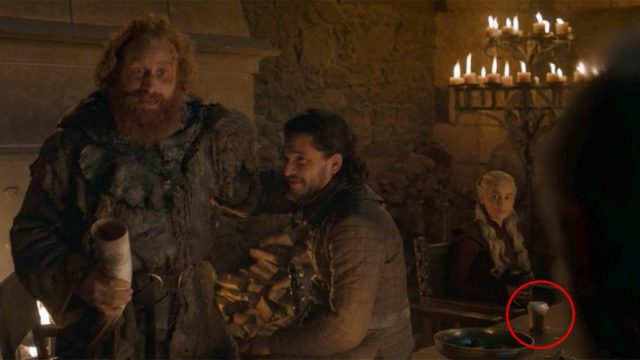 Milioni di spettatori sono in attesa della chiusura delle vicende di Game of Thrones, colossal serial che ha tenuto gli spettatori attaccati allo schermo ormai per quasi dieci anni.
Il trono di spade è una delle serie più amate in assoluto, responsabile della diffusione massiccia delle serie tv e della nascita di servizi dedicati per tutti gli appassionati delle storie a episodi.
Ed ecco che, nel bel mezzo di una produzione milionaria è comparsa una anacronistica tazza di Starbucks, rimasta lì proprio durante le riprese e non notata da nessuno fino alla messa in onda del quarto episodio della stagione otto!
La tazza di Starbucks si vede benissimo ed è proprio nel bel mezzo si una scena che vede alcuni dei protagonisti a tavola.
La tazza in verità si nota con un fermo immagine e sono stati gli appassionati più sfegatati a notarla.
Quello che è certo è che, tra i blooper più noti del cinema, la tazza di Starbucks sarà ricordata di sicuro negli anni a venire.
L'apparizione ha fatto sorridere la rete e addirittura ha portato a un commento ufficiale della HBO che ci ha scherzato su dicendo che non era latte, Daenerys infatti aveva ordinato una tisana.
Un pubblicità involontaria che ha dato già vita a meme e battute di ogni genere.
Game of Thrones è una delle serie più seguite in assoluto e ogni singolo dettaglio viene scandagliato dai fan fino alla nausea.
L'apparizione di un oggetto così fuori scena non poteva restare inosservata ed è già tormentone.
Quello che è certo è che l'amore per i fan della saga nei confronti del trono di spade è immenso, il successo dell'ultima stagione planetario e, in questo momento sul web non si parla praticamente d'altro.
Gli spioiler di Game of Thrones, poi sono diventati uno delle spauracchi numero uno per gli utenti web.