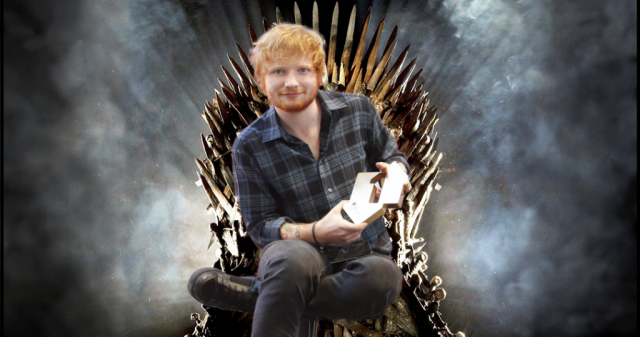 Come abbiamo accennato qualche settimana fa, il cantante Ed Sheeran parteciperà come special guest nella settima stagione della celebre serie Tv Game Of Thrones, che ritornerà con i nuovi episodi proprio quest'estate.
Il cantautore britannico è da sempre un grande fan della serie che lo ospiterà. Per molti anni i produttori hanno cercato di farlo entrare nello show, per fare una sorpresa all'attrice Maisie Williams, che interpreta Arya Stark, fan accanita del cantautore britannico. E per la gioia sia di Maisie, che di tutti i fan di Ed Sheeran, questo momento sembra essere finalmente arrivato. Ma quale ruolo avrà Ed?
La curiosità circa il suo personaggio è tanta. E' stato lo stesso Ed a rivelare qualche dettaglio circa il ruolo che interpreterà. Ha rassicurato tutti, ironicamente, che di sicuro il suo personaggio non morirà. La guest star si è detta felice di sopravvivere, così magari potrebbe tornare anche nell'ottava stagione di Game Of Thrones.
Ed Sheeran ha girato le sue scene lo scorso novembre, recitando proprio al fianco di Arya. La sua parte durerà soltanto cinque minuti. Alcuni hanno ipotizzato che forse la piccola Stark sarà in viaggio per raggiungere i suoi fratelli, dopo aver ottenuto la sua vendetta contro Walder Frey per l'assassinio della madre e di suo fratello Robb Stark.
Per ora l'intera trama della settima stagione di Game Of Thrones rimane segreta. Come si evolverà la storia di Jon Snow, di Cersei, Daenerys, Sansa, e tutti gli altri personaggi che per sei stagioni hanno lasciato col fiato sospeso milioni di telespettatori?
Potremo sapere qualcosa in più a partire dal 16 Luglio, quando verrà mandato in onda il primo episodio della nuova stagione. Nel frattempo vi lasciamo con il primo trailer ufficiale rilasciato da HBO. Restate collegati con noi di Blog di cultura per nuovi aggiornamenti su Game Of Thrones.