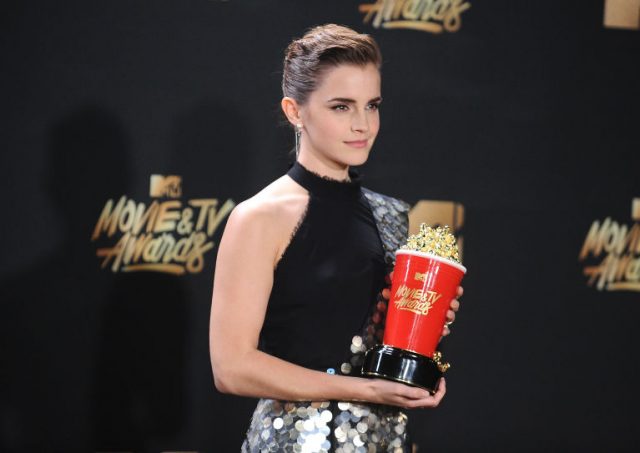 Emma Watson ha vinto agli MTV TV & Movie Awards di Los Angeles il primo premio "gender neutrale" per la miglior performance dell'anno, per aver interpretato il personaggio di Belle nel film targato Disney "La Bella e la Bestia" (Beauty and the beast , il remake fatto con attori in carne ed ossa del capolavoro d'animazione.
Il premio "gender neutrale" è il primo premio alla recitazione a non avere distinzione in base al sesso, non più "Miglior attore" o "Miglior attrice", ma un unico riconoscimento alla performance migliore dell'anno.
Emma Watson, in quanto ambasciatrice delle Nazioni Unite per la parità di genere, non poteva che accogliere con grande orgoglio questo riconoscimento.
Ecco le sue parole dopo aver ricevuto il premio da Asia Kate Dillon, la star della serie "Billions":
"Questo è il primo premio per gli attori che non divide i nominati sulla base del loro sesso e questo ci dice qualcosa su come percepiamo la nostra esperienza di essere umani. E per me tutto ciò indica anche il fatto che recitare significa mettersi nei panni di qualcun altro e questo non ha bisogno di separarci in due categorie diverse: l'empatia e l'abilità di usare la propria immaginazione non dovrebbe avere limiti".
Il suo discorso continua così: "Penso di aver ricevuto questo premio anche per ciò che Belle rappresenta: mi piace interpretare qualcuno che non pensa che il mondo sia piccolo e senza opportunità. Sono orgogliosa di aver fatto parte di un film che celebra la diversità, l'inclusione, la letteratura e l'amore".
Durante la stessa serata anche Millie Bobby Brown è stata premiata per aver interpretato Undici (Eleven) nella serie Tv di successo targata Netflix "Stranger Things". Ma per lei il regalo più grande è stato quello di poter incontrare per la prima volta la sua attrice preferita, proprio la grande Emma Watson.