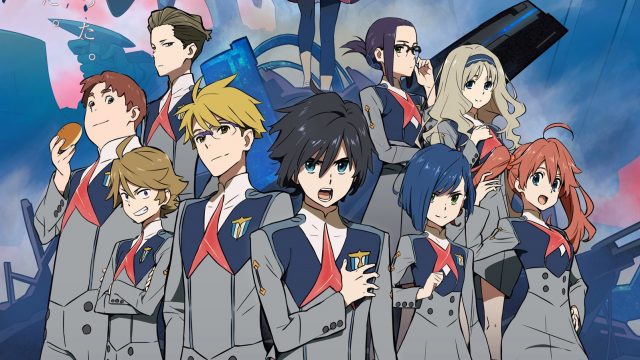 In onda in questo periodo e circa a metà delle sue previste 28 puntate, Darling in the Franxx è un interessante anime che sta facendo parlare di sé, specialmente oltre oceano.
Ci troviamo di fronte a un prodotto che pesca a piene mani dal capolavoro Evangelion, reinterpretando il concetto di fondo dell'opera mastodontica di Anno, prodotta da Gainax e inserendo idee completamente nuove che stanno facendo impazzire i forum del web, soprattutto per teorie e interpretazioni dei colpi di scena che, episodio dopo episodio sembrano delineare un'idea ben precisa e inquietante sulla realtà all'interno della quale si muovono i giovani protagonisti.
Darling in the Franxx racconta la storia di una unità di bambini, selezionati per guidare a coppie dei robot destinati alla difesa delle colonie "umane" e della loro estrazione del magma dal cuore della terra. La particolarità dei robot che guideranno sta nel fatto che questi ultimi necessitano una coppia maschio-femmina, coppia che finirà per stabilire un rapporto simile a quello di una relazione, simulando addirittura una rapporto sessuale nelle fasi di combattimento.
I piloti non sanno niente del mondo e della biologia, ignorano sesso, amore, relazioni. Scopriranno tutto lentamente, vivendo la loro strana adolescenza a scoprendo i segreti legati alla loro stessa esistenza, così come imparando a conoscersi meglio.
Darling in the Franxx è una delle produzioni anime più particolare e ambiziosa in circolazione, al momento non è presente una traduzione ufficiale, anche se su CrunchyRoll è possibile vedere tutti gli episodi con sottotitoli in italiano e dialoghi in lingua originale.
La trama inizia a prendere la sua più inquietante e avvincente forma, siamo a metà della prima e, forse unica, stagione. Resta quindi da vedere, se i registi saranno in grado di gestire tutta la carne al fuoco che hanno messo, chiudendo in maniera magistrale come fu per il capolavoro di Anno.