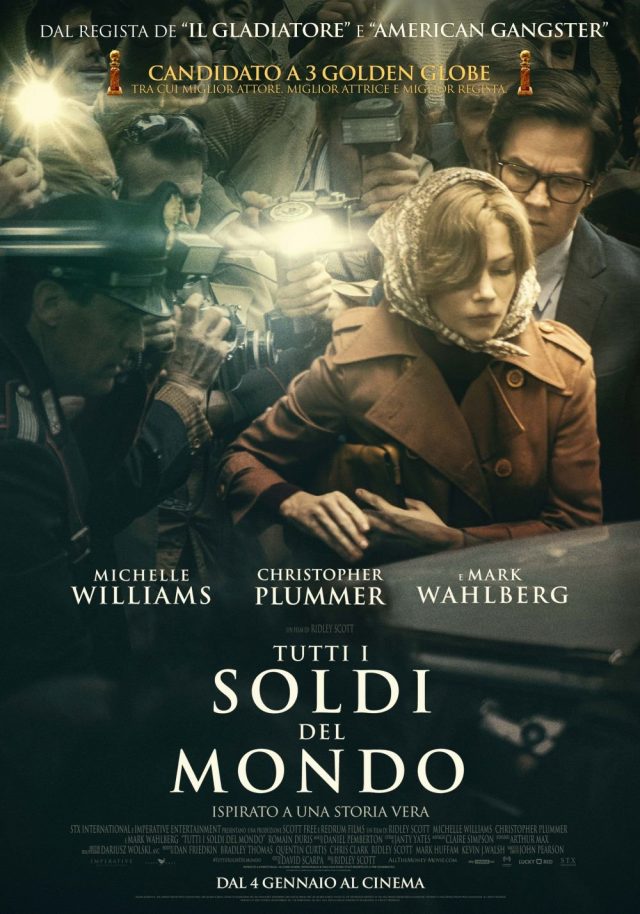 Arriverà sul grande schermo il prossimo 4 Gennaio il nuovo capolavoro di Ridley Scott, "Tutti i soldi del mondo" (All The Money in the world), ispirato a una storia vera.
Candidato a tre Golden Globe, tra cui quello come Migliore Regista, Miglior Attore e Miglior Attrice, il film vanta un cast eccezionale, con Mark Wahlberg, Michelle Williams e Christopher Plummer, che all'ultimo momento ha dovuto sostituire Kevin Spacey.
In soli nove giorni infatti, in seguito alla decisione di Ridley Scott di cacciare dal cast Spacey, a causa dello scandalo in cui è stato coinvolto, Plummer ha dovuto imparare e girare tutte le sue scene.
"Tutti i soldi del mondo" è stato scritto da David Scarpa e le riprese sono state effettuate in Italia. Ecco la sinossi ufficiale del film:
Tutti i soldi del mondo è l'adrenalinica ricostruzione di un fatto di cronaca realmente accaduto e divenuto un caso mediatico internazionale: il rapimento di Paul Getty III.                                                                             Roma, 1973. Alcuni uomini mascherati rapiscono un ragazzo adolescente di nome Paul Getty III (Charlie Plummer), nipote del magnate del petrolio Jean Paul Getty (Christopher Plummer), noto per essere l'uomo più ricco al mondo e al tempo stesso il più avido. Il rapimento del nipote preferito, infatti, non è per lui ragione sufficientemente valida per rinunciare a parte delle sue fortune, tanto da costringere la madre del ragazzo, Gail (Michelle Williams), e l'uomo della sicurezza, Fletcher Chace (Mark Wahlberg), a una sfrenata corsa contro il tempo per raccogliere i soldi, pagare il riscatto e riabbracciare finalmente il giovane Paul. Una vicenda pubblica e privata che sconvolse il mondo per aver rivelato a tutti un'incredibile verità: che si può amare di più il denaro che la propria famiglia. Una storia mai raccontata prima sul grande schermo con la firma del grande Ridley Scott.
Qui di seguito troverete il trailer ufficiale di Tutti i soldi del mondo, che vi aspetta in sala a partire dal 4 Gennaio 2018.