Siamo ormai alla fase dei Knockout di "The Voice of Italy", il talent canoro tutto all'italiana che questa sera, 20 Aprile, trasmette l'ultima puntata prima dei Live. Come di consueto, all'inizio del programma, il conduttore Federico Russo fa il riepilogo della situazione, presentando i giudici e i cantanti dei loro team. Sempre presenti sono i quattro giudici di The Voice of Italy, tra cui: Dolcenera, Emis Killa, Max Pezzali e Raffaella Carrà.
Ma tra di loro ce n'è una che ha deciso di presentarsi in puntata in maniera più appariscente del solito: si tratta della mitica Raffaella Carrà, il cui outfit, sempre molto particolare, questa sera si è spinto verso un versante molto molto rock. La Carrà, infatti, questa sera si è presentata con una giacca di paillettes multicolore, molto luccicosa e luccicante, guanti di pelle nera e, a coronare questo look da "boss del rock", occhiali da sole scuri.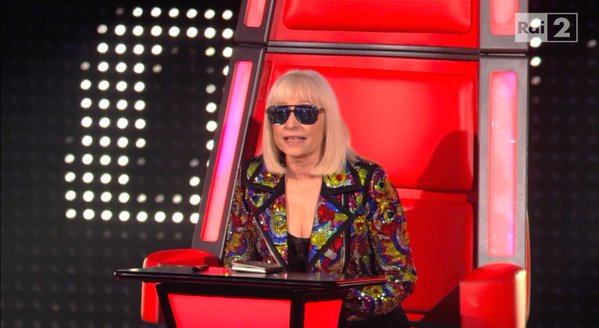 Questo ha spinto subito il conduttore Federico Russo a far notare l'uso degli occhiali da sole. La Carrà non si è fatta sorprendere e, con la sua solita positiva dose di ironia, ha giustificato questa scelta dicendo che gli occhiali erano necessari perché la giacca era troppo "luminosa".