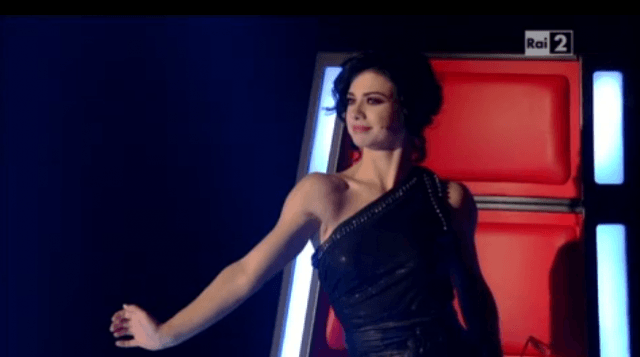 Sesta ed ultima puntata delle Blind Audution: al talent canoro "The Voice of Italy" continua la corsa per chiudere i Team. Dopo l'esibizione di un concorrente, Dolcenera in diretta si fa scappare una battuta maliziosa diretta proprio verso il concorrente in questione.
E' successo dopo l'esibizione di Rocco, il trentenne che con voce profonda ha portato sul palco la sua interpretazione di "Personal Jesus" dei Depeche Mode, un brano che Dolcenera ha apprezzato particolarmente.
Dolcenera inizia così raccontando di quando aprì il concerto dei Depeche Mode e si sentì come "attaccata al muro" proprio da questo brano. E da qui parte con un commento malizioso: "Io non ho un maschio.. come te nella mia squadra!".
Il concorrente, giunto il momento di decidere, alla fine sceglie proprio di entrare a far parte del team Dolcenera, e dopo che si è congedato, Dolcenera guarda i due giudici uomini e dice: "Anche voi dovreste fare i maschi". Così Max Pezzali continua sulla scia dei doppi sensi intrapresa da Dolcenera dicendo: "Guarda, se mi metto a fare il seduttore io non ce n'è più per nessuna!"
Che dire… A The Voice quest'anno non ci si annoia proprio mai!