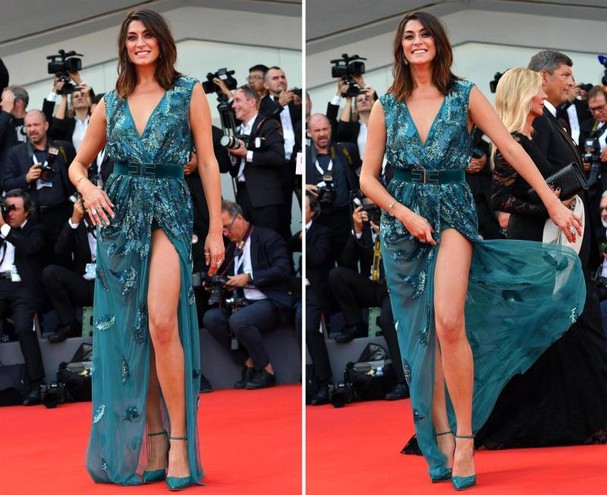 Mentre la mostra del cinema prosegue presentando pellicole di grande spessore come The First Man, e la pellicola dedicata alla vicenda Cucchi celebrato da sette minuti di applausi, ecco arriva anche Elisa Isoardi, ormai in una veste quasi istituzionale, dato che parliamo della compagna dell'attuale vice-premier e ministro dell'interno Matteo Salvini.
Ma più che della Isoardi stessa si parla del suo abbigliamento, uno spacco vertiginoso che ha fatto impazzire le riviste di settore e ha scaldato l'atmosfera del 75esimo festival del cinema di Venezia.
La presentatrice era già stata in grado di destare curiosità, semplicemente nella sua conduzione de: La prova del cuoco. Si tratta infatti della donna più vicina a un importante figura dello stato che, in particolare nell'ultimo periodo è costantemente sotto ai riflettori, per controversie e vicende che toccano l'ambito nazionale e internazionale. Un partner non facile per la Isoardi che sembra aver scelto un look shock per evitare malintesi.
Ed eccola quindi arrivare uno un vestito di grande classe dotato di uno spacco a dir poco vertiginoso che ha già fatto il giro del web nelle foto che la ritraggono alla prima di The First Man,
Il vestito da sera, firmato da Elisabetta Franchi è ricoperto di ricami e paillettes, cucito in tessuto blu scuro ha lasciato tutti a bocca aperta, in particolare, ci immaginiamo la reazione di Salvini che era a sua volta in Laguna.
Ecco però che l'abito, soprattutto nelle fasi finali della giornata è sembrato piuttosto provato a lì lì per aprirsi e scatenare il vero scandalo da red carpet.
Per fortuna tutto è andato per il meglio, e la Isoardi è riuscita a gestire il vestito, fino all'addio al festival della sera.