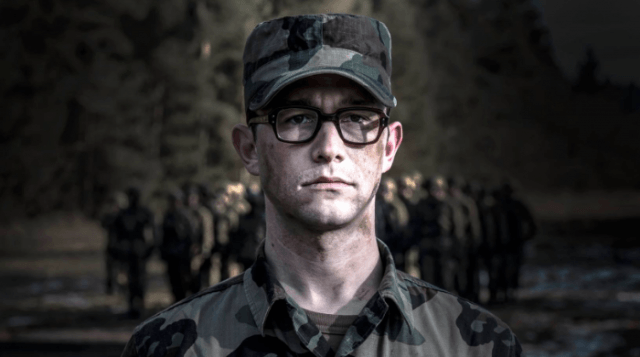 A Natale nei cinema americani non ci sarà solo la bella commedia divertente o il must Disney dell'anno. Grazie a Oliver Stone infatti ci sarà anche un film che si presenta piuttosto angoscioso e paranoico: "Snowden". Il film incentrato sul personaggio che ha fatto esplodere il Datagate, è pronto a far discutere.
Il film di Stone nasce come trasposizione cinematografica del libro di Luke Harding "The Snowden Files: The Inside Story Of The World's Most Wanted Man" e nel cast oltre al protagonista Joseph Gordon-Levittanche (il poliziotto che nel terzo capitolo della trilogia di Nolan su Batman diventa Robin), ci saranno anche Shailene Woodley, Melissa Leo, Zachary Quinto, Tom Wilkinson, Rhys Ifans, e Nicolas Cage.
Una bandiera americana in HD, dai colori decisi, a fare da sfondo a poche parole, telegrafiche sulla vita di Edward Snowden, l'uomo più ricercato del mondo. "Arruolato nell'esercito a 20. Entrato nella CIA a 22. NSA contractor a 26. Dall'età di 29, l'uomo più ricercato nel mondo" il tutto condito con una cover di "This Little Light of Mine".
Insomma il film si preannuncia piuttosto caldo, fin dal trailer che finisce con alcune scritte sulla bandiera per altro rovesciata: "Una nazione sotto sorveglianza per la libertà e la giustizia di tutti". Tra i commenti al video si legge una frase emblematica: "Si avvia ad essere un film piuttosto controverso". Come dargli torto?
Ecco il teaser trailer rilasciato dalla Open Road Films.