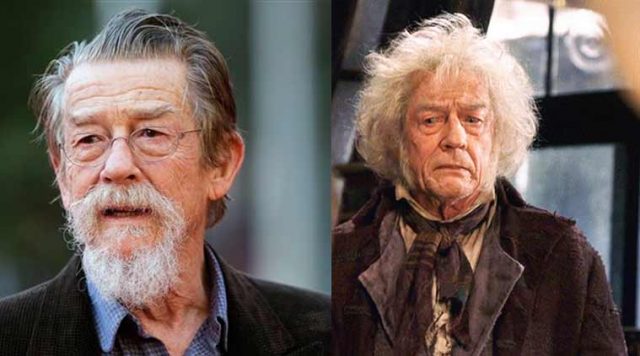 E' morto ieri l'attore britannico John Hurt. Conosciuto per aver interpretato il signor Ollivander in tre film di Harry Potter, ma soprattutto per aver recitato come protagonista nel film The elephant man di Lynch.
Muore dopo una lunga battaglia contro il cancro, malattia che aveva annunciato di avere qualche anno fa. John Hurt vanta una grande carriera cinematografica. Ha iniziato come attore di teatro ma è stato il cinema a dargli notorietà.
Ricordato come attore dal grande carisma e dalla grande presenza scenica, ha girato circa 75 film. E' stato vincitore di molti premi Bafta e Golden Globe, ed ha ricevuto due candidature agli Oscar, come miglior attore protagonista in The elephant man e come miglior attore non protagonista nel film Fuga di mezzanotte, di Alan Parker.
Tra gli altri film in cui ha recitato ricordiamo: Alien, V per Vendetta (interpretava il cancelliere Adam Sutler), Indiana Jone (nell'episodio "L'assassinio di Rillington") , Un uomo per tutte le stagioni, L'australiano, Scandal e tanti altri. Ha recitato anche nella serie Tv Doctor Who. Nel 2017 usciranno tre film, di cui ha terminato le riprese prima di morire.
Sui social sono arrivati molti messaggi da parte dei suoi colleghi, tra questi quello di Sharon Stone che dice: "Dio accolga John Hurt, attore leggendario e persona buona". Brook, produttore di The elephant man ha invece scritto: "Nessuno avrebbe potuto interpretare Elephant Man in modo più memorabile, ha portato quel film nell'immortalità cinematografica".
Mentre Bonnie Wright (Ginny Weasley in Harry Potter) ha twittato "Lo shopping di bacchette magiche non sarà lo stesso senza di te". Infatti John Hurt, resterà nel cuore di tutti i fan della saga, per aver interpretato il già prima citato Ollivander, costruttore di bacchette. Memorabile la scena in cui Harry entra nel suo negozio a Diagon Halley per comprare la sua prima bacchetta magica . Eccola qui: