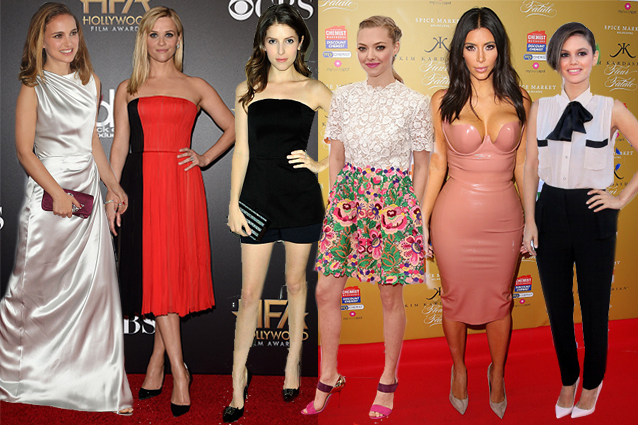 Sono tante le star di Hollywood a non superare i 160 centimetri d'altezza. Alcune attrici, benché belle e famose, non possono vantarsi d'essere anche alte, anzi confermano il detto "Nella botte piccola c'è il vino buono".
Ma l'altezza non è tutto, si può sempre rimediare con un bel paio di tacchi alti. Le attrici, che a breve elencheremo, dimostrano di avere altre qualità. Nonostante il piccolo difetto dell'altezza infatti, sfoggiano carisma, bellezza e fascino.
Ecco per i lettori più curiosi i nomi delle attrici più basse che sfilano sul tappeto rosso. Magari tra queste, si nasconde anche la vostra preferita…
Iniziamo con Mary Kate e Ashley Olsen, le gemelle più famose degli Stati Uniti. Entrambe sono alte un metro e 55 centimetri.
A seguire la bella attrice Reese Witherspoon, anche lei alta 155 centimetri.
Ecco Sara Jessica Parker, la tanto amata Carry Bradshaw di Sex & the City. Lei supera le gemelle Olsen e la Witherspoon di ben 5 centimetri, è alta infatti 1,60 m.
Rachel Bilson, famosa per aver interpretato Summer in The O.C, è alta 1, 57 m.
Stessa altezza (1, 57 m) per Kim Kardashian, più nota per le sue curve che per i suoi centimetri.
Eva Longoria, attrice e fotomodella, è alta un metro e 55 centimetri.
Salma Hayek, l'affascinante attrice messicana, ha un'altezza pari a 1, 57 m.
Scarlett Johansson, l'affascinante e sexy statunitense, non supera i 160 centimetri.
Anche la bella e simpatica Drew Barrymore, è alta 1, 60 m.
Vanessa Hudgens, attrice e cantante, è alta 155 centimetri.
La bellissima Amanda Seyfried manca di poco i 160 centimetri, è alta infatti 1, 59 m.
E per finire Natalie Portman, modella e attrice, alta 1, 60 m.
Queste erano alcune delle celebrity più basse di Hollywood, che hanno saputo farsi notare e raggiungere una certa fama nonostante la loro bassa statura. Si sono fatte valere per il loro talento o per la loro sensualità, sfatando quindi il mito "Altezza mezza bellezza" .