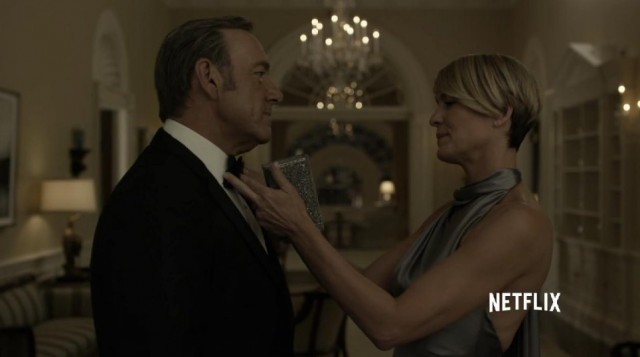 I Golden Globe 2015 sono stati, oltre che una serata di gala per cinema e televisione, anche l'occasione per presentare al mondo due succulenti antipasti: le prime immagini, sotto forma di teaser trailer di 50 sfumature di grigio e della terza stagione di House of Cards.
La serie prodotta e trasmessa negli USA da Netflix ha raccolto, con le prime due stagioni, consensi unanimi da pubblico e critica, tuttavia non riuscendo a conquistare nemmeno stavolta il Golden Globe (andato invece a The Affair, nella categoria drama). Riconoscimento invece portato a casa da Kevin Spacey, come miglior attore protagonista nello stesso ambito. A bocca asciutta invece la co-protagonista della serie, Robin Wright (superata da Ruth Wilson).
Dopo il discorso di ringraziamento dell'interprete di Frank Underwood ("Questo è l'inizio della mia vendetta") la NBC ha mandato in onda le prime immagini dell'attesissima terza stagione di House of Cards, che andrà in onda su Netflix a partire dal 27 febbraio.
Ecco il teaser trailer.