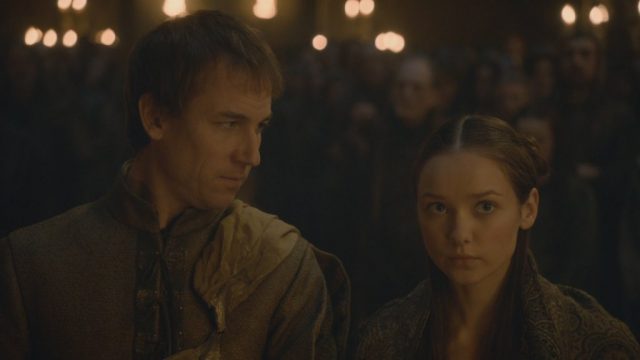 SPOILER ALERT: non proseguite la lettura se on avete ancora visto il sesto episodio di Game of Thrones 6, Blood of my blood.
Vi ricordate le Nozze Rosse? Il tremendo rito nuziale con cui si era chiusa la terza stagione di Game of Thrones? In quel matrimonio si celebrava l'unione tra un non molto entusiasta Edmure Tully e Roslin Frey. Poi andò come andò, e il fratello di Catelyn e Lysa Stark da quel giorno venne tenuto prigioniero da Walder Frey, traditore della Casa Tully. La casata da cui discendeva la moglie di Ned Stark è rimasta poi completamente fuori dai giochi nelle successive stagioni della serie: ma nell'ultimo episodio, andato in onda stanotte su Sky Atlantic HD, ha fatto nuovamente la sua comparsa Edmure Tully.
La prigionia di Edmure, nipote di Brynden Tully, detto il Pesce Nero, sarà l'asso nella manica di Walder Frey, nella lotta con il Pesce Nero per il possesso di Delta delle Acque. Soprattutto, i discendenti di Casa Tully potrebbero assumere un ruolo chiave nell'imminente conflitto tra Jon Snow e Ramsay Bolton per Grande Inverno.
Edmure, interpretato da Tobias Menzies (star anche di Outlander), aveva fatto la sua prima comparsa all'inizio della terza stagione di Game of Thrones: era lui a mancare ripetutamente con la freccia infuocata la zattera che trasportava il cadavere del padre Hoster Tully, durante il funerale di quest'ultimo. Di Roslin Frey, invece, al momento nessuna notizia.
L'altro grande ritorno però è quello di Benjen Stark: il nome del fratello di Ned era stato utilizzato come esca per l'agguato organizzato da Alliser Thorne che aveva portato all'assassinio di Jon Snow. Benjen torna sottoforma di Coldhands (Manifredde), personaggio che salva il nipote Bran Stark e Meera dall'assalto degli Estranei. Benjen racconta poi loro di essere stato aggredito dagli Estranei e di essere stato salvato dai Bambini della Foresta: adesso ha l'apparenza di un Estraneo ma l'anima di un umano.
[Foto: HBO]