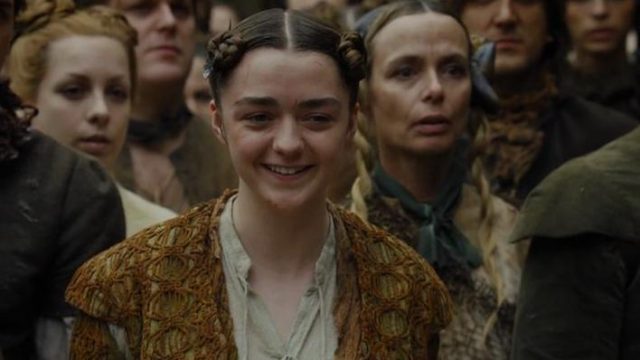 L'ottavo episodio di Game of Thrones 6, trasmesso stanotte in Italia da Sky Atlantic HD, ha rappresentato un momento di transizione, rispetto al gran finale imminente, con gli ultimi due appuntamenti ad attenderci. Eccezion fatta però per il finale, con l'intreccio di Arya Stark finalmente risolto e l'iniziazione a Braavos, presso Jaqen H'ghar, completata. 'Una ragazza è Arya Stark di Grande Inverno. E sto tornando a casa': una battuta talmente elettrizzante che Maisie Williams, 19enne interprete della piccola di casa Stark, non è riuscita a esimersi dal pubblicarla su Twitter, poco dopo la messa in onda della puntata.
A GIRL IS ARYA STARK OF WINTERFELL, AND I'M GOING HOME.#bitchisback #stillaryafromtheblock #teamarya

— Maisie Williams (@Maisie_Williams) 13 giugno 2016
Un tweet che è suonato ad alcuni come uno spoiler (ma anche dopo l'episodio è da considerarsi tale?): l'utente Fernando Osuna, probabilmente indispettito per l'anticipazione della Williams, le ha risposto ringraziandola per lo spoiler. Una tirata d'orecchie a cui la ragazza ha risposto così.
@Ferkun10 bro, get off Twitter aha

— Maisie Williams (@Maisie_Williams) 13 giugno 2016
'Amico, esci da Twitter'. Dopo questa, anche noi facciamo decisamente parte del Team Arya. Che si prepara al grande scontro per la riconquista di Grande Inverno a fianco dei fratelli Sansa e Jon Snow.