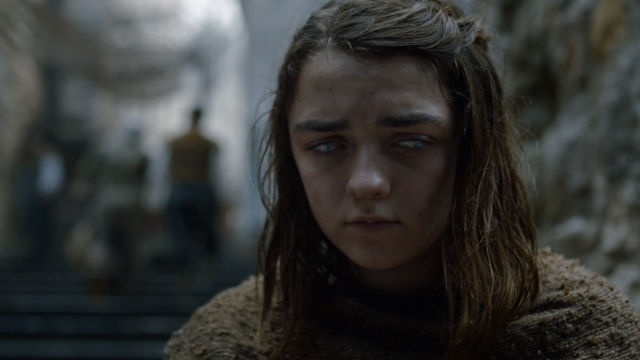 L'avevamo lasciata fuori dalla Casa del Bianco e del Nero di Braavos, con la vista di nuovo disponibile e scampata all'iniziazione del misterioso e imperturbabile Jaqen H'ghar: Arya Stark, nell'episodio 7 di Game of Thrones 6, ha pagato però la scelta di non diventare Nessuno, evitando di uccidere l'attrice designata da Jaqen.
Andandosene tranquilla per la città, in pieno giorno, la giovane Stark riceve i complimenti di una vecchia signora, che poi la accoltella ripetutamente: l'anziana si rivela essere l'Orfana, che ha finalmente soddisfatto il suo sadismo represso, affondando la lama nel corpo di Arya. Che però riesce a evitare il colpo di grazia e a gettarsi nel fiume: quando vede il suo bersaglio risucchiato dalle acque, che si colorano di rosso, l'Orfana crede dunque di aver portato a termine il suo lavoro.
Fortuna però (per noi) che Arya Stark riemerge dall'acqua e trascina il suo corpo sanguinante per le strade, osservata dagli occhi indifferenti della gente. La domanda che ora tutti ci poniamo è: la giovane Stark sopravviverà? Stando al realismo, la ragazza avrebbe dovuto tirare le cuoia già all'impatto con l'acqua, ma questo è Game of Thrones, e ci sono almeno un paio di motivi che giocano a favore della sopravvivenza di Arya: un personaggio con il suo peso specifico nella vicenda non può andarsene in questa maniera, più adatta a una sequenza di Romanzo criminale; Maisie Wlliams, interprete di Arya Stark, ha rivelato che il suo personaggio si vede nel trailer ufficiale della sesta stagione più di quanto non pensiamo. E quel trailer ci dice che la giovane Stark (che adesso ricorda il padre anche come acconciatura) farà ancora parte dei giochi.
C'è però una teoria esposta su Reddit – che confina col campo della speculazione – che, se fosse vera, costituirebbe uno straordinario colpo di scena: Arya e l'Orfana potrebbero essere la stessa persona. È come se l'Orfana fosse una proiezione sviluppata dal disturbo bipolare di Arya (visibile solo a lei e a Jaqen) e il suo unico scopo fosse quello di uccidere in maniera figurata Arya, in modo che questa possa compiere quel salto psicologico preteso da Jaqen. Qual è l'indizio principale di questa teoria? Jaqen desidera che l'Orfana lasci sempre la stanza quando vuole parlare con Arya: la misteriosa ragazza riappare quando la Stark è sola.
Intanto su Twitter sono già partiti i commenti in merito all'episodio.
#ThronesYall do not trust in old ladies! Run #Arya #GameofThrones pic.twitter.com/IbKBbNbMsN

— PedroBarrosoManzano (@pbm_barroso) 6 giugno 2016
[Foto: HBO]