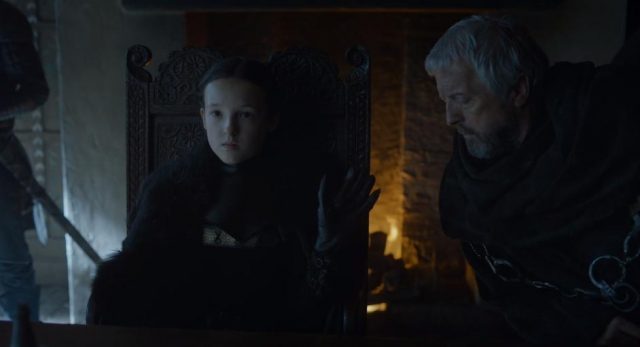 SPOILER ALERT: l'articolo contiene anticipazioni sul settimo episodio di Game of Thrones 6.
"Io ho giurato fedeltà a Casa Stark. Ma Casa Stark è morta". Parole dure e lapidarie quelle con cui Ser Glover risponde a Jon Snow e Sansa Stark, recatisi presso di lui per chiedere supporto nell'imminente guerra contro l'esercito guidato da Ramsay Bolton e appoggiato dalle casate Umber e Karstark. Jon e Sansa potranno però contare sull'ausilio di 62 (!) uomini sotto il comando di Lyanna Mormont, nipote di Joel Mormont, ex Lord comandante dei Guardiani della Notte: 10 anni, regina dell'Isola dell'Orso, un carisma fuori dal comune e la risposta sempre pronta.
Ricevuti dalla piccola sovrana, i figli di Ned Stark si trovano inizialmente in difficoltà al cospetto di Lyanna, che in principio snobba con sprezzo la loro richiesta di supporto: sarà il saggio appello di Ser Davos a conquistare il cuore di Lyanna, discendente della stessa casata di Jorah Mormont. La giovanissima leader concederà dunque i suoi pochi ma fortissimi – a suo dire – uomini nella guerra che si profila all'orizzonte, a fianco di Jon Snow e Sansa Stark.
Intanto, Lyanna Mormont (interpretata dalla piccola ma talentuosa attrice Bella Ramsey) è già diventata un personaggio cult, come si evince dalle reazioni sui social dei seguaci di Game of Thrones: e c'è anche il supporto della Madre dei Draghi (o perlomeno, del suo profilo Twitter).
I like the little She-Bear #GameOfThrones #TheBrokenMan

— Daenerys Targaryen (@danygonebad) 6 giugno 2016
[Foto: HBO]