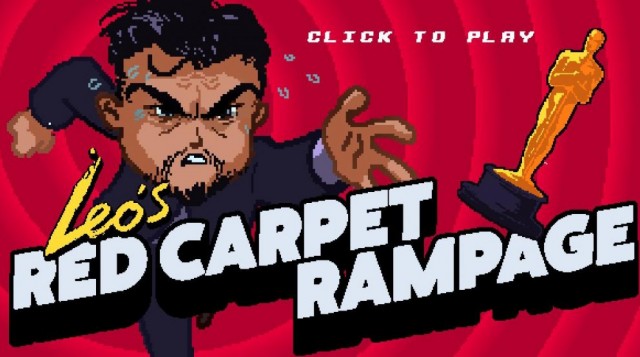 Fermatevi un attimo e ammirate la cosa più bella realizzata in questo 2016: Leo's red carpet rampage. Ovvero un videogame in 16-bit che vede protagonista Leonardo DiCaprio all'inseguimento dell'agognato primo Oscar della sua carriera.
Due geni del male che rispondono al nome di Bjorn-Erik Aschim e Sam Taylor hanno messo a punto quest'avventura bidimensionale con DiCaprio che, proprio come i supereroi dei videogiochi anni '80, si muove attraverso vari livelli, accompagnati da quadri extra, come quello che ritrae Leo nei panni di Jordan Belfort nella famosa scena in cui cerca di raggiungere l'auto strisciando in The Wolf of Wall Street. In mezzo, una valanga di finissime citazioni estrapolate dalla carriera di Leonardo (in corsa per l'Oscar con The Revenant), dall'iceberg di Titanic a Lady Gaga, protagonista insieme a lui di un curioso siparietto agli ultimi Golden Globes.
Durante la corsa all'Oscar, Leo farà incetta, come punti bonus, di Emmy e Globes: a insidiare la sua missione ci saranno inoltre gli altri candidati alla statuetta nella sua stessa categoria, da Bryan Cranston a Michael Fassbender, anche loro rappresentati da adorabili sagome in 16-bit.
Leo's red carpet rampage è disponibile a questa pagina: noi non garantiamo per il mantenimento della vostra vita sociale.