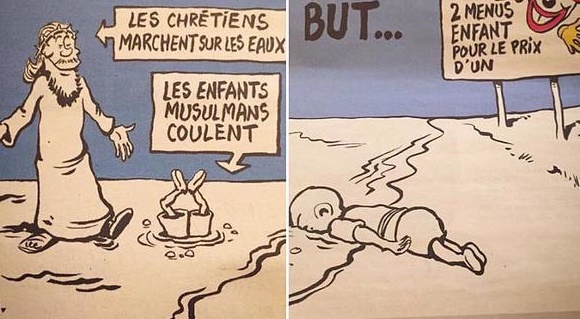 La notizia del tremendo attentato dello scorso gennaio, quando la redazione del giornale francese Charlie Hebdo fu oggetto di un attentato terroristico, che causò dodici morti, è ancora impressa nella memoria di tutti. Lo è ancor di più l'immagine di Aylan, il bimbo siriano il cui corpicino senza vita, annegato, due settimane fa ha fatto il giro del web, provocando un'onda emozionale a lunga gittata. Cosa succede se Charlie Hebdo, noto per il suo umorismo ortodosso, pubblica dei disegni incentrati sulla tragedia dei migranti, prendendo spunto dal caso di Aylan?
Ce lo dice questa vignetta, presente nel numero di questa settimana Charlie Hebdo, in cui sono ritratti Gesù Cristo e un bambino, che sta per affogare. 'La prova che l'Europa è cristiana', recita la didascalia che accompagna il disegno, 'i cristiani camminano sull'acqua, i bambini musulmani annegano', con esplicito riferimento al bimbo siriano.
Charlie Hebdo's new cover "Proof that Europe is Christian – Christians walk on water – Muslim kids drown" speechless pic.twitter.com/xsbZ5fjwNz

— Rim (@SimplyRim) 13 Settembre 2015
La vignetta che però potrebbe dare adito a polemiche ancora più infuocate è quest'altra, in cui è presente un cartellone con il clown di McDonald's (uno dei simboli del capitalismo occidentale), con sopra riportata la frase 'Offerta, due menu bambini al prezzo di uno', e una riproposizione dell'ormai tristemente celebre posa inerme di Aylan.
#CharlieHebdo Welcome to the migrants, so close to the goal…promotional offer: kids menu 2 for the price of 1" pic.twitter.com/LjqTUnBVAZ

— Abu Basim (@islamaideology) 12 Settembre 2015
C'è però chi grida al fake, facendo notare, giustamente, che la copertina del numero in questione di Charlie Hebdo, sempre dedicata al tema dei migranti, è in realtà quella nell'immagine sotto. Senza però accertarsi o meno che la vignetta (che nella foto appare sovrapposta alla copertina del giornale) sia contenuta all'interno del numero.