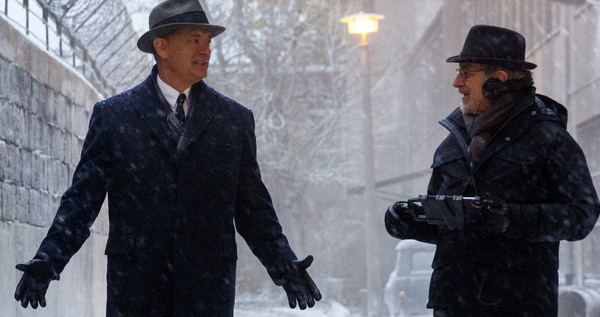 Da due giorni è finalmente fuori il primo trailer del nuovo film di Steven Spielberg, "Bridge of Spies". Il regista americano amato dai cinematti e non solo ha scelto per la sua nuova pellicola un cast a dir poco d'eccellenza, ovvero: Tom Hanks, Amy Ryan, Alan Alda e Mark Rylance.
La sceneggiatura del film, invece, è stata firmata quasi interamente da Matt Charman, mentre il copione è stato revisionato e riscritto dagli ormai noti fratelli Ethan e Joel Coel.
Il thriller "Bridge of Spies"- ambientato negli Stati Uniti agli arbori degli anni Sessanta, e dunque durante la Guerra Fredda– si presenta già come un fil ricco di riferimenti storici appassionanti e grandi risvolti. Spielberg ci racconta la storia dell'avvocato di Brooklyn James B. Donovan, che si ritrova coinvolto nel bel mezzo della Guerra Fredda accettando di difendere la spia del KGB Rudolf Abel, per poi negoziarne lo scambio con l'Unione Sovietica per l'agente della CIA Francis Gary Powers.
Pronti per il nuovo thriller drammatico, ma sicuramente sorprendente come suo solito, del regista americano Steven Spielberg? Segnatevi questa data: 16 ottobre 2015, e tenetevi pronti per accorrere nelle sale cinematografiche a vedere "Bridge of Spies", una pellicola che è già una grande promessa del cinema.