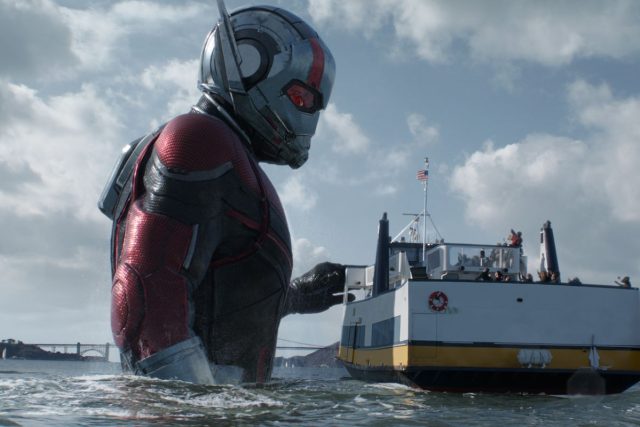 L'eroe che ha sorpreso il mondo del cinema regalando una prima pellicola nata in un vero putiferio ma capace di conquistare gli spettatori e convincere sull'interessante personaggio di Antman, sta per tornare.
La regia è gestita direttamente da Peyton Reed e il risultato finale è un film Marvel classico, che funziona senza mai eccedere e senza sperimentare più di tanto, ma che lo fa con successo.
Ant-Man and the Wasp, riesce infatti a muoversi bene tra espedienti narrativi, il celebre gioco del grande piccolo che ha segnato il personaggio, così come a creare quelle premesse narrative che tengono il ritmo sempre costante accompagnandoci alla fine della pellicola con una certa classe.
Funziona anche Michael Peña come spalla comica, vengono inoltre introdotti numerosi personaggi che vanno a segnare in modo indelebile l'universo del nuovo supereroe e che probabilmente vedranno un grande ritorno negli inevitabili episodi futuri.
Con una colonna sonora è eccezionale, riesce a dare personalità alla pellicola e a sottolineare al meglio le sequenze del film restando ben impressa. L'elemento musicale di solito non brilla particolarmente nei film Marvel ecco che in questo caso il risultato è davvero eccellente e va a giocare a favore di questo Antman, un film che fa il suo lavoro nel modo migliore possibile, senza essere un capolavoro ma regalando un intrattenimento di qualità perfetto per questo periodo dell'anno.
Ant-Man and the Wasp è un film che parla di famiglie, da quella del supereroe alle famiglie allargate del team di superuomoni e dei loro rivali.
L'uomo formica, sul quale si nutrivano i più svariati dubbi riesce quindi a portarsi a casa un altro episodio di altissimo livello, una pellicola Marvel in grado di rispettare tutti gli stilemi del genere e di divertire e appassionare lo spettatore anche senza chiamare in causa i grandi nomi del panorama super.