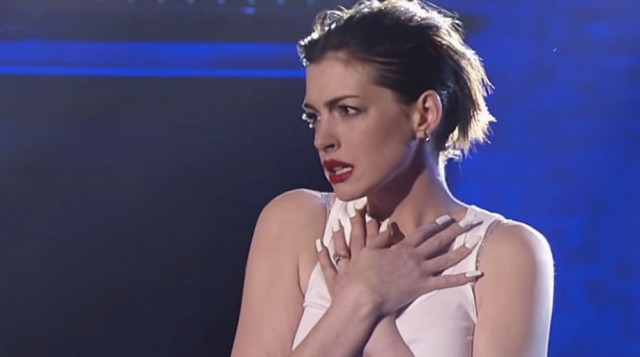 Anne Hathaway ha decisamente fatto impazzire il suo pubblico ma non solo; l'attrice premio Oscar per "Les Miserables" è stata infatti concorrente assieme ad un'altra attrice, Emily Blunt, al momento al cinema con "Into the Woods", della seconda puntata del nuovo show "Lip Sync Battle", prodotto da Jimmy Fallon, Stephen Merchant e John Krasinski, in onda sul canale televisivo americano Spike che prevede sfide tra personaggi famosi che si devono esibire in playback. Anne Hathaway per l'occasione ha interpretato prima "Love" di Mary J. Blige e poi "Wrecking Ball" di Miley Cyrus con tanto di "costumi" di scena, martello e palla sulla quale è saltata facendo il dito medio scherzosamente alla rivale e facendo letteralmente esplodere la platea di pubblico.
L'attrice di "Interstellar" e "Alice in Wonderland" ha infatti riproposto la versione interpretata dalla Cyrus nel video ufficiale della canzone che alla sua distribuzione aveva destato molto scalpore per le sue scene decisamente hot che la cantante è solita riproporre anche in versione live. D'altra parte Emily Blunt non è stata da meno e ha mimato con grande grinta "No Diggity" dei Blackstreet e "Piece of my Heart" di Janis Joplin.
Ecco il video integrale della sfida tra le due attrici, al minuto 2.20 la perfomance della Hathaway.