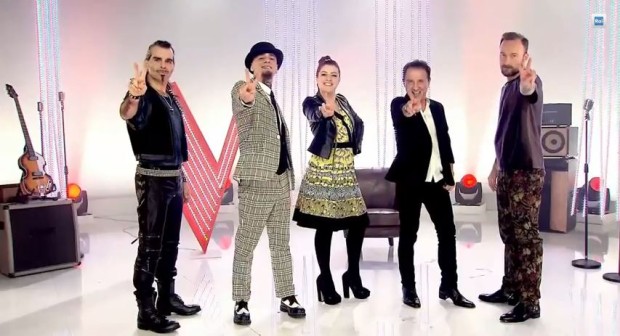 La finale di The Voice non è speciale solo per i finalisti rimasti in gara, ma anche per i loro coach, che negli scorsi tre mesi hanno passato molto tempo con i loro allievi e sono riusciti ad instaurare un rapporto molto speciale. Tutti i coach hanno scelto delle canzoni significative per il percorso dei finalisti a The Voice a vogliono celebrare il legame che si è instaurato tra coach e allievo.
I primi ad esibirsi sul palco di The Voice sono Thomas Cheval con la sua coach Noemi, che ha scelto per il loro duetto "Angel" di Robbie Williams. La canzone vuole rendere il rapporto che li unisce: Noemi si è sentita sempre in dovere di proteggere Thomas, il più piccolo e timido dei talenti in gara, che è però riuscito a sbocciare e tirare fuori la grinta che ci vuole per trasmettere il proprio mondo cantando.
Poi è la volta di coach Pelù e Roberta Carrese, che hanno cantato insieme sulle note di "Pride in the name of love" degli U2. Roberta e Piero Pelù sono riusciti a trasmettere molta energia cantando insieme e alla fine della loro esibizione anche Roby Facchinetti si è complimentato, sperando di sentirli duettare ancora perché le loro voci si completano e stanno bene insieme.
J-Ax ha scelto di cantare con Carola Campagna una canzone che, ad entrambi, ricorda l'infanzia: "L'isola che non c'è" di Edoardo Bennato, che è stato anche coach insieme a Piero Pelù durante le prime fasi di The Voice. Carola Campagna ha ammesso di cantare questa canzone da piccola insieme a suo papà e J-Ax è felice di questo perché anche per lui la canzone di Bennato è speciale proprio perché ricorda una situazione familiare. Ma non solo: J-Ax si sente un Peter Pan e la canzone racchiude la sua filosofia di vita. Carola ha cantato molto bene e il suo coach ha inserito nel pezzo una parte rap.
Infine, Fabio Curto ha cantato "Il mondo" di Jimmy Fontana con il suo coach Roby Facchinetti, mentre Francesco li accompagnava sul palco di The Voice con la chitarra elettrica. La voce di Fabio ha dimostrato di essere all'altezza delle corde vocali di Roby, che, al pianoforte, non è riuscito a trattenersi dal fare i suoi acuti.