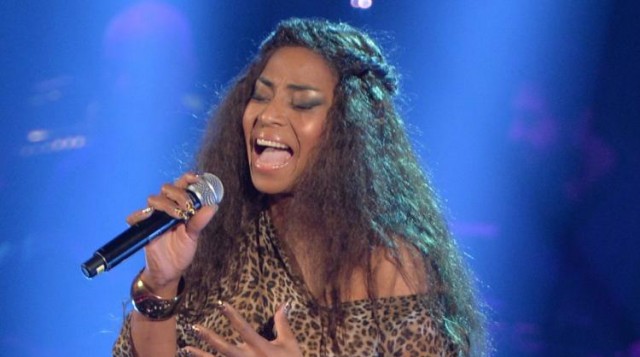 In molti hanno criticato la scelta di Noemi. Alcuni non avrebbero fatto sfidare due voci così importanti e forti: Keeniatta, con il suo background musicale e l'esperienza, e Amelia, giovane e promettente cantante diciannovenne. La prima sfida dei Knock Out si apre con due canzoni impegnative ed emozionanti, scelte dai talenti, che portano sul palco i loro cavalli di battaglia e le canzoni che li rappresentano maggiormente. Amelia sceglie "Senza pietà", canzone con la quale Anna Oxa vince Sanremo nel 1999. Keeniatta sceglie invece la colonna sonora del film "The bodyguard", "I have nothing" di Whitney Houston.
La performance di Amelia è carica di energia e la giovanissima cantante dimostra di essere all'altezza del suo avversario. L'esibizione di Keeniatta mette a dura prova la sensibilità di JAx, che si emoziona. Alla fine delle due performance, i coach si complimentano con entrambe le sfidanti e le confrontano ponendole sullo stesso livello vocale. Pelù commenta la sfida facendo i complimenti ad Amelia, dotata di sicurezza e di bellezza che la fanno sentire a suo agio sul palco. Roby Facchinetti fa un discorso molto profondo sulla potenza della musica, che non cambierà il mondo ma cambia sicuramente il modo di vivere delle persone, e lo migliora.
Noemi è costretta a scegliere e decide di portare ai Live la graffiante voce di Keeniatta. Il coach è dispiaciuto di abbandonare Amelia a questo punto di The Voice, che considera l'unica voce all'altezza di una sfida con Keeniatta e giustifica così la scelta di metterle in sfida. Nonostante le lacrime, Amelia lascia il programma ringraziando Noemi per essersi girata alle Blind, e per aver creduto in lei, con queste parole: "Ti ho scelta con il cuore e ti ringrazio con il cuore".