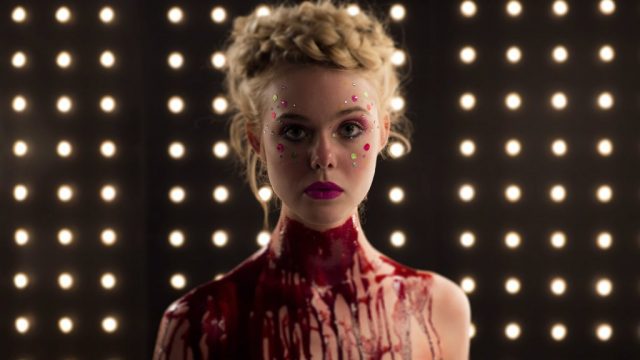 Esce l'8 giugno al cinema il film più "oscuro" del mese – The Neon Demon – una favola dark illuminata al neon, opera del talentuoso Nicolas Winding Refn, già autore di cult come Drive, che ci porta in un mondo in cui tutto ciò che conta sono l'immagine e il lusso: il mondo della moda.
The Neon Demon segue Jesse (la interpreta una Elle Fanning), una sedicenne che prova a sfondare nel mondo della moda. Vive un motel di Los Angeles, un posto poco raccomandabile gestito dal rude Keanu Reeves. La macchina da presa la segue mentre inizia il suo cammino all'interno delle agenzie di modelle, sui set fotografici e sulle passerelle. Passo dopo passo arriverà a perdere sempre di più la sua umanità, trasformandosi in un altro tipo di creatura. Sangue, occhi vomitati, scene splatter e cannibalismo sono gli elementi che rendono questo film un horror che tenta di applicare la sindrome di Dorian Gray alla moda. Una grande metafora di come le modelle, vittime sacrificali della bellezza da imitare, si potessero spingere anche a diventare cannibali (letteralmente) pur di sconfiggere tempo e chili di troppo. Oltre la protagonista, Elle Fanning (Somewhere, Super 8, Maleficent) e Keanu Reeves, nel cast figurano Karl Glusman, Jena Malone, Bella Heathcote, Abby Lee e Christina Hendricks.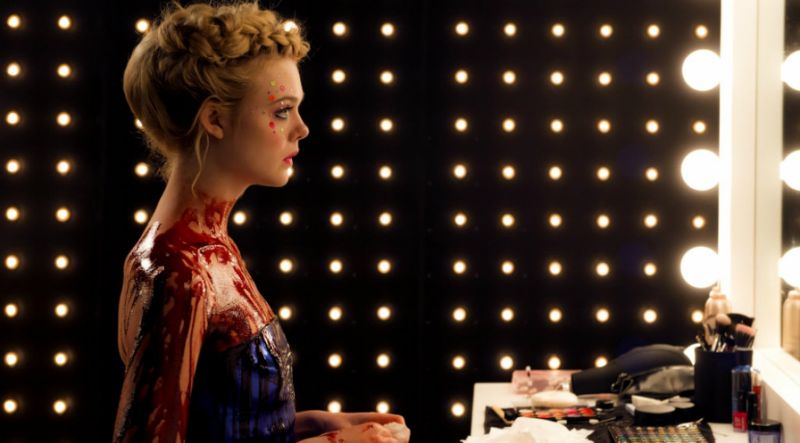 A Cannes il film non ha ricevuto una buona accoglienza da parte della critica, e di fronte a questa reazione condivisa Refn aveva risposto: "L'opera d'arte, suscita reazioni. Se non fosse così non sarei qui a perdere tempo, farei altro. D'altronde Cannes è il posto migliore dove far vedere i propri film. Quello che voglio davvero, alla fine, è che i miei figli vivano in un mondo integro senza compromessi".
Per quanto riguarda invece l'estetica di The Neon Demon aveva sottolineato il regista danese: "Sono dislessico per le immagini. Per me sono essenziali per comprendere il mondo. Certo nel film c'è qualcosa di perverso, di sensuale, i miei demoni, ma anche molta ironia". Il vero tema di questo film? "La terrificante consapevolezza che oggi il mondo intero ruota intorno alla bellezza. Un'ossessione che si vede in tv, sui media. Ma questo è anche ovviamente un lavoro centrato sulle donne dove gli uomini sono figure di secondo piano, solo fisici. In questo senso tutti gli uomini nel film sono dominati dalla donne se non quando le donne gli concedono di essere predatori". Il regista chiarisce inoltre che non c'è stata da parte sua nessuna voglia di criticare la moda: "Non sono un esperto di moda, non la volevo criticare, ma casomai solo una certa idea di bellezza". E inoltre spiega la presenza di necrofilia nel film poiché presente nella società attuale: "Oggi la morte e la bellezza sono artificiali, si ritrovano insieme con la rivoluzione digitale".
[Foto: Natasha Braier]