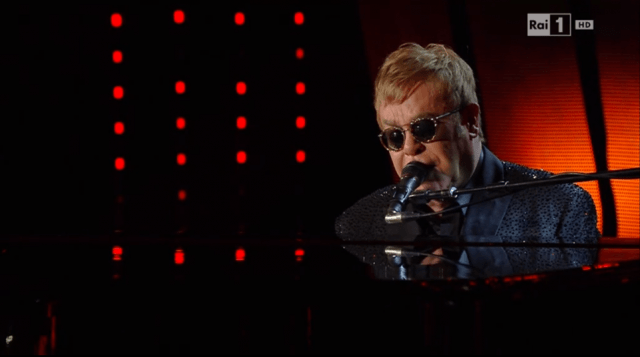 Dopo Laura Pausini, è sir Elton John l'attesissimo secondo ospite canoro di questo Festival di Sanremo. Il cantautore inglese esordisce sul palco dell'Ariston con Your Song.
Subito accolto da Conti, il cantante continua poi l'esibizione a Sanremo 2016 con un altro suo classico, Sorry Seems To Be The Hardest Word.
Agganciandosi agli scottanti temi di attualità, John, proprio come altri artisti questa sera, manifesta il suo ovvio sostegno alle famiglie omosessuali. "Non pensavo che questo viaggio sarebbe durato così tanto, oggi però mi diverto moltissimo. Non avrei mai pensato di diventare papà e di aver la vita che ho avuto", così risponde alle domande del conduttore. John ha infatti due figli, avuti da una madre surrogato.
La sua esibizione si conclude con l'esecuzione di un brano dal suo nuovo album: l'artista inglese accetta poi, un po' impacciato, i fiori offerti da Conti.