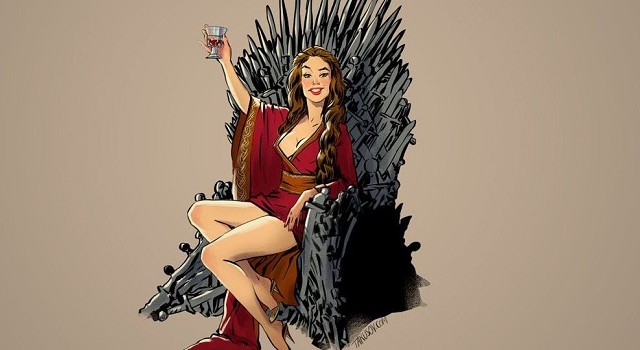 Di gallery prodotte su Game of Thrones ce ne sono a centinaia, li abbiamo visti in versione Disney; Mike Wrobel li ha disegnati in stile anni '80-'90. Perciò quella che vi presentiamo non sarà certamente l'ultima di una lunga serie. Ad ogni modo, ciò che colpisce di queste gallery, è la capacità, da parte dei diversi artisti, di creare tanti tipi di varietà. Ad esempio, l'artista russo, Andrew Tarusov, ha immaginato le protagoniste di Game of Thrones in versione Pin-Up.
Il risultato è veramente delizioso. Ciò che sorprende, oltre l'estrema somiglianza con le attrici, è l'esaltazione degli aspetti più sexy dei personaggi. Tra quelli più riusciti, secondo il nostro giudizio, sono: Ygritte coperta da una (striminzita) pelliccia tipica dei bruti; Margeri, con la vertiginosa scollatura che da sempre la caratterizza; Daenerys distesa con un drago a farle da guardia. Oltre alle immagini già citate, una nota di merito va anche ad un'insolita Brienne – e, in questo caso, l'artista ha dovuto lavorare molto di fantasia.
Le foto, inoltre, non sono esenti da caricature comiche: ad esempio, Melisandre, vestita di rosso e coperta da un morbido ciuffo che le scende sul petto, imbraccia anche un estintore… da brava sacerdotessa del signore del fuoco; anche Cercei, la quale, seppur in atteggiamenti sexy, non perde occasione di bere un buon bicchiere di vino.
Se i lavori di Andrew Tarusov e se in generale lo stile Pin-Up vi affascina, potete seguire l'artista sul suo sito ufficiale.
Ecco quindi tutte le figure, raccolte in una gallery, delle protagoniste in versione Pin-Up. Voi quali preferite?