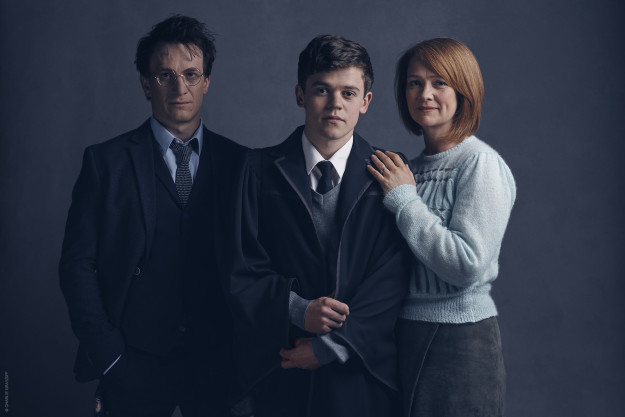 Una settimana esatta: tanto manca alla prima di 'Harry Potter and the cursed child', l'attesissima play basata sulla saga concepita da J.K. Rowling, che avrà luogo al Palace Theatre di Londra, il prossimo 7 giugno.
Giusto per far aumentare ancor di più l'acquolina in bocca ai fan di Harry, sono state pubblicate le foto dei principali protagonisti dello spettacolo: un ritratto di famiglia che immortala un maturo Harry Potter (interpretato da Jamie Parker) accanto alla moglie Ginny Weasley (Poppy Miller) e al figlio, il giovane Albus Severus Potter (Sam Clemmett), vestito con la (nuova) divisa di Hogwarts.
Il figlio di Harry e Ginny, per chi non lo sapesse, è così chiamato in onore di Albus Silente e Severus Piton, che nell'ultimo capitolo letterario della saga (I doni della morte) hanno dato la vita nella lotta contro il male, rappresentato da Lord Voldemort.
In merito all'Harry Potter maturo, interpretato da Jamie Parker, J.K. Rowling ha dichiarato: "È semplicemente Harry, ora. Provo una sorta di sollievo nel vederlo: Jamie ha capito perfettamente come interpretarlo".
[Foto: Charlie Grey]