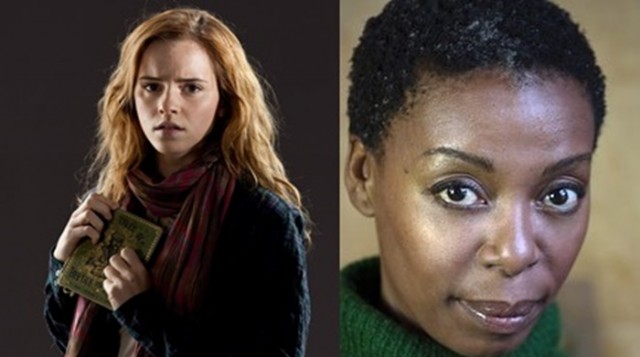 Harry Potter and the Cursed Child, ottavo capitolo della fortunatissima saga della Rowling sul maghetto più amato della letteratura, approda al teatro e lo fa con un cast tutto rinnovato rispetto a quello storico conosciuto nella trasposizione cinematografica.
Ad interpretare Harry Potter Jamie Parker, per il ruolo di Ron Wasley è stato sceltp Jamie Parker, ma la grossa sorpresa arriva per il personaggio di Hermione Granger, che sarà interpratata da un'attrice di colore, Noma Dumezweni. Apparsa in più di una dozzina di produzioni teatrali londinesi, è apparsa anche in numerose pellicole sul grande schermo.
La scelta, che ha in breve fatto il giro del web, è stata accolta in genere con estrema curiosità dai fan della saga, anche se c'è chi, tradizionalista, critica una scelta che va a distaccarsi completamente dall'immagine del personaggio conosciuto al cinema.
La trama ambientata circa 16 anni dopo l'ultimo capitolo, vede l'adulto Harry impegnato presso il Ministero della Magia e sposato con tre figli; proprio il più giovane, Albus Severus Potter, lotta con il pesante fardello della sua eredità di famiglia. Lo spettacolo teatrale, scritto da Jack Thorne e basato su un racconto della stessa Rowling, sarà diretto da John Tiffany; sarà diviso in due atti e vedrà sul palcoscenico alternarsi più di 30 attori.