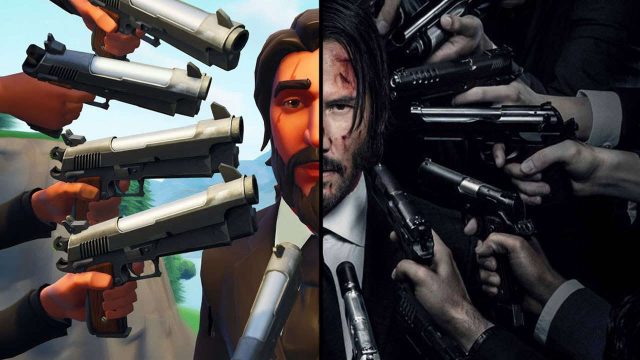 l dataminer lucas7yoshi ha scoperto una nuova skin in arrivo per Fortnite.
Parliamo della skin John Wick di Fortnite, dedicata all'imminente pellicola di fantascienza con protagonista Keanu Reeves.
Fortnite non manca mai di omaggiare i film sci fi più seguiti in sala ed ecco che, dopo l'ennesimo mash up con Avengers, che a portato a nuove skin oltre che modalità dedicate alla saga dei vednicatori, Fortnite passa a John Wick con tanto di skin e sfide.
Ecco la nota condivisa dal datamine: "Wick's Bounty The High Table has opened a new contract. You're tough but not unstoppable, if you are eliminated three times you are out for good. Stay alive and collect gold tokens by eliminating the other bounty hunters. The first team to reach the required token count wins, but be careful how far ahead you get – token leaders are marked on the map for all to see."
Un chiaro segno della presenza di modalità dedicate e novità importanti che accompagneranno l'arrivo in sala della pellicola.
Fortnite, ancora una volta dimostra la sua potenza mediatica e la capacità di fondersi con le più svariate realtà dell'intrattenimento contemporaneo.
ll battle royale è ancora uno dei titoli competitivi più seguiti di Twitch ed è destinato a restare nel tempo.
Il panorama casuale  competitivo infatti è ormai monopolio di Fortnite che si muove di pari passo ai classici del genere, da DOTA e LOL.
Considerato più volte sulla via del tramonto, Fortnite non smette di innovarsi e di fornire nuove sfide ai suoi giocatori, senza mai perdere lo smalto e tenendo alta l'asticella della qualità per rimanere in vetta.
L'opera di Epic Games è un trend ben lontano dalla sparizione.
Siamo lontani dal periodo di lancio ma Fortnite è più vivo e attivo che mai e con la nona stagione si appresta a regalare nuove emozioni agli utenti.