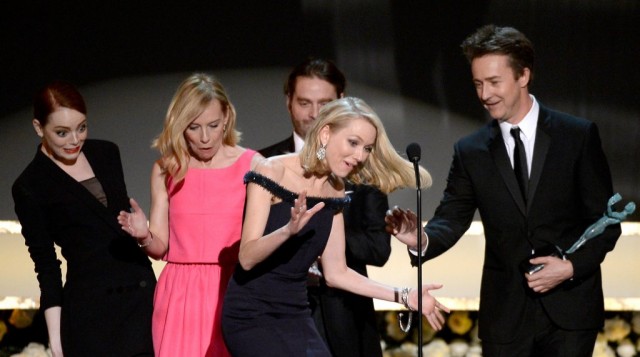 Si è conclusa la scorsa notte la 21esima edizione dei SAG Awards allo Shrine Exposition Center di Los Angeles. Tra sorprese, vincitori e discorsi di ringraziamento anche qualche piccolo momento esilarante che fortunatamente non si è trasformato in un vero e proprio incidente.
Coinvolte Emma Stone e Naomi Watts entrambe appartenenti al cast di 'Birdman' del regista Inarritu. L'incidente si è avuto proprio mentre le due si trovavano sul palco, insieme agli altri attori del cast tra cui Michael Keaton, Amy Ryan, Andrea Riseborough ed Edward Norton che si alternavano davanti al microfono per i ringraziamenti in seguito alla vittoria nella categoria 'Miglior Cast' battendo il favorito 'Boyhood'. Giunto il momento dell'attrice Naomi Watts, questa ha rischiato di "atterrare sul palco" inciampando sullo strascico del vestito della collega Emma Stone. L'attrice fortunatamente è riuscita con abilità ad evitare il peggio aiutata dal collega Edward Norton. L'espressione esilarante di Emma Stone ha già fatto il giro del mondo.
http://www.youtube.com/watch?v=MGupVDZOw6A
Al di là del piccolo incidente, è doveroso comunque riportare quali sono stati i vincitori degli Screen Actors Guild Award di quest'anno, ovvero dei premi assegnati dall'associazione degli attori americani ai migliori performer di film e serie tv. I SAG, infatti, sono considerati dei validi indicatori in vista degli Oscar. Non sorprende quindi il trionfo di Julianne Moore per 'Still Alice', ottenendo il bis dopo i Golden Globe. Eddie Redmayne, protagonista di 'La teoria del tutto', soffia il premio a Michael Keaton. Tra le serie tv si ha una conferma con la vittoria di Kevin Spacey per l'interpretazione in 'House of Cards', mentre trionfa 'Orange is the new black' (con un esplosione di gioia del cast) come miglior serie comica.