Si dice che ognuno di noi abbia almeno due sosia sparsi per il mondo e che probabilmente non incontrerà mai; fa però un po' impressione mettere uno affianco all'altro due soggetti distanti nel tempo e nello spazio, con apparentemente nessun legame, tanto simili da sembrare la stessa persona. Ancora più semplice è farlo quando si tratta di personaggi famosi, figure note che stanno davanti agli occhi di milioni di persone.
Ecco quindi ritrovare in Nicolae Grigorescu, pittore rumeno nato nel 1838 e morto nel 1907, considerato il fondatore della pittura rumena moderna, le fattezze del noto pirata dai Caraibi Orlando Bloom.
Oppure rivedere nel patriota e incisore statunitense Paul Revere (1735 – 1818) il volto dell'attore Jack Black, nome d'arte di Thomas Jacob Black che nel corso della sua carriera ha ricevuto due nominations ai Golden Globes, due ai People Choice Award, una ai Grammy Award e sette ai Teen Choice Award.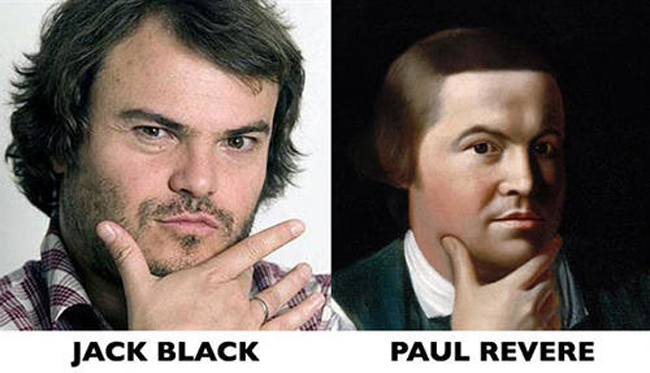 Sicuramente ad effetto l'accostamento tra l'attore Peter Dinklage, al momento facente parte del cast della serie "Game Of Thrones", con il personaggio dipinto da Diego Velazquez nel 1645 nel quadro "Dwarf sitting on the floor".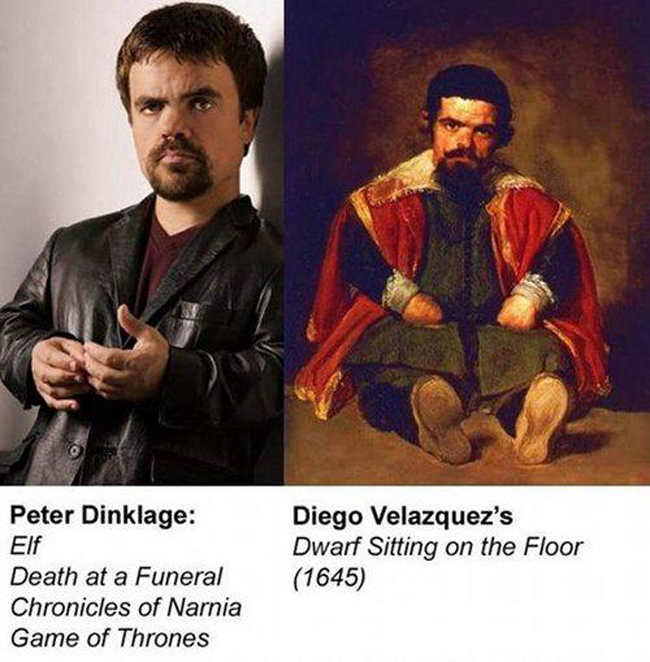 Certo un po' costruiti ma comunque d'impatto i paragoni tra Sylvester Stallone e l'immagine di Papa Gregorio IX, nato come Ugolino di Anagni nel 1170 e morto nel 1241; tra il Brad Pitt di "Bastardi Senza Gloria" e lo psichiatra di Zurigo Hermann Rorschach (1884 – 1922) e tra il giovane creatore di Facebook Mark Zuckerberg e il ritratto del re di Spagna Filippo IV D'Asburgo (1605 – 1665).
Un caso curioso di somiglianza ha per protagonista perfino il patron della casa automobilistica del Cavallino Enzo Ferrari, morto nel 1988, stesso anno in cui nacque il calciatore Mesut Özil.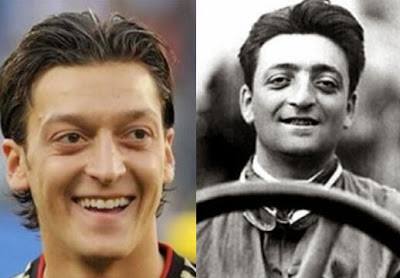 Molti altri i casi riscontrati che hanno per protagonisti celebri volti dello spettacolo; da Anne Hathaway a Christian Bale, John Travolta, Eddy Murphy, fino a Bruce Willis e Nicholas Cage.