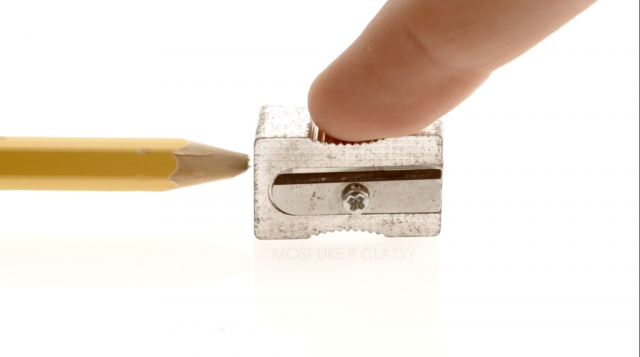 Matus The First è un artista slovacco di 26 anni che ha avuto un'idea geniale. Il giovane, infatti, ha ideato il primo video promozionale per incoraggiare le persone a fare sesso, ed è riuscito a farlo senza utilizzare nessun tipo di immagine cruda o volgare.
L'artista ha usato per il video solamente un temperino e una matita, ad imitare diverse posizioni.
La voce fuori campo del video spiega che "A qualcuno piace di classe. Ad alcuni di fretta e ad alcuni romantico o in tutti e due i modi. E, per alcuni di noi, è la prima volta. Non esiste una dimensione perfetta o un'età altrettanto perfetta quando c'è la passione. Ma, a volte, la passione tende a diventare abitudine, ed è questo il momento perfetto in cui le fantasie selvagge prendono vita".
Poi, conclude con un chiaro ed incisivo "Fuck the routine".
Quindi, quel che Matus The First intende dire con questo video è che l'abitudine uccide e rovina i rapporti, che il sesso bisogna farlo ma sempre con la giusta dose di passione, o anche più del dovuto che non guasta mai, e senza cadere nella routine che è letale.
L'artista 26enne afferma «Con questo video promozionale non stiamo vendendo sesso, ma stiamo vendendo un motto: "Fuck the routine". Il sesso può essere veloce, così come può essere romantico, ma l'importante è che sia sempre fatto con tutta la passione di cui si è capaci. Adesso vorrei elaborare un secondo video, stavolta sul sesso tra omosessuali, e mi piacerebbe collaborare con diverse organizzazioni per i diritti umani che supportano la tolleranza sessuale».