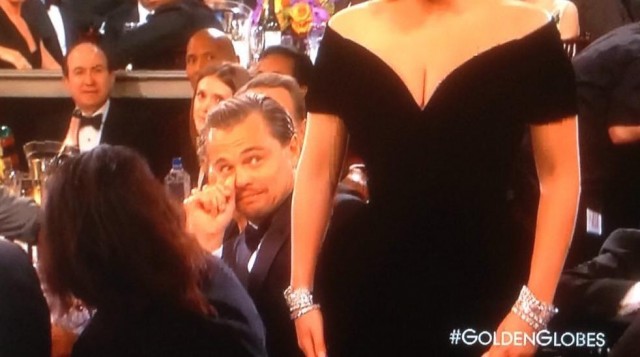 Non potevano mancare, in una notte come questa, i fenomeni sul web: stavolta è toccato a Leonardo DiCaprio e Lady Gaga. Durante la serata di assegnazione dei prestigiosi premi Golden Globes, l'artista ha vinto il premio come "Migliore attrice protagonista in una miniserie o film tv", e si è così alzata per raggiungere il palco.
Durante questo breve spostamento, Leonardo DiCaprio le ha lanciato un'occhiata mentre era di spalle: una vera presa in giro che in poco tempo ha fatto il giro del web. Ovviamente il popolo di twitter si è sbizzarrito: ecco i migliori tweet.
Ecco cosa è successo:
You'll laugh out loud over Leonardo DiCaprio's hilarious reaction to Lady Gaga: https://t.co/DfRI0Uw6xL pic.twitter.com/KMPGdS15dg

— POPSUGAR (@POPSUGAR) January 11, 2016
"Questa sarà la reazione di Gaga se vince un Oscar prima di lui":
Leonardo DiCaprio was laughing when Gaga won her Golden Globe… This will be Gaga if she wins an Oscar before him. pic.twitter.com/AeRY9O58r9

— anal (@vyctordelrey) January 11, 2016
"Leo merita un Golden Globe solo per questa reazione":
Leo deserves a Golden Globe for this reaction. Better than the bear movie. https://t.co/mORpKiadA0

— Allison P Davis (@AllisonPDavis) January 11, 2016
In pochi hanno notato che Gaga ha scostato l'attore, come se le ostruisse il passaggio:
Giuro che non smetto più di ridere. #GoldenGlobes pic.twitter.com/rEeAkXwZSH

— F. (@francescawho) January 11, 2016
Cosa sta a significare la reazione di Leo? Disgusto? Paura per essersi trovato a un centimetro da Gaga mentre stava ridendo di lei? Fatto sta che l'espressione di DiCaprio è valsa da sola il prezzo di una notte in bianco.