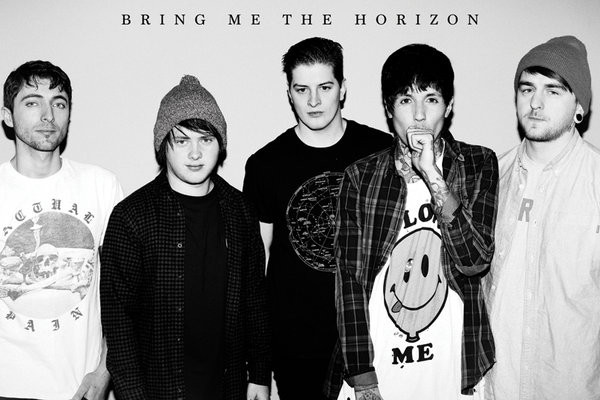 Da qualche tempo la band Bring me the horizon non si faceva sentire. Ecco però che dopo la pubblicazione del primo singolo inedito Mantra, uscito dopo più di tre anni dall'ultima novità, la band ha annunciato una serie di buone nuove, in accompagnamento alla programmazione del loro pezzo in esclusiva su BBC dal 21 agosto scorso.
Ecco che il team di Sheffield tornerà finalmente sui palchi europei con una serie di date che coprirà tutto il mese di novembre 2018 con tanto di tappa in italia il 13 novembre al Mediolanum Forum di Assago (MI), unico concerto nel nostro paese per la giovane formazione, quindi da non perdere per tutti gli amanti della band.
La notizia più interessante è però un'altra, pare infatti che la band inglese sia pronta a dare alle stampe un nuovo album dal titolo "Amo", sesto disco in studio previsto per l'11 gennaio 2019. Il nuovo tour vedrà quindi la band esibirsi in anteprima con alcuni dei nuovi pezzi, stuzzicando così l'interesse e l'attesa del nuovo lavoro che arriverà ad anno nuovo.
Tante novità quindi per la band inglese che, dal lontano 2004 è riuscita ad affermarsi nel mondo della musica mondiale con i suoi vari dischi e una serie di singoli di successo.
Per quanto riguarda la data italiana, ci troviamo davanti a una possibilità unica per i fan del gruppo di vedere i loro beniamini suonare proprio qua da noi, ecco quindi di seguito tutti i dettagli relativi al concerto dei Bring me the horizon, che si terrà martedì 13 novembre presso il forum di Assago.
Una data da non perdere assolutamente:
Bring Me The Horizon Tour 2018
Martedì 13 novembre
Mediolanum Forum Assago (MI)
Inizio concerti: ore 19.00
Apertura porte: ore 18.00
Prezzo del biglietto in prevendita: a partire da €35,00 + d.p.
Biglietti in vendita a partire dalle ore 10.00 di venerdì 31 Agosto su ticketone.it