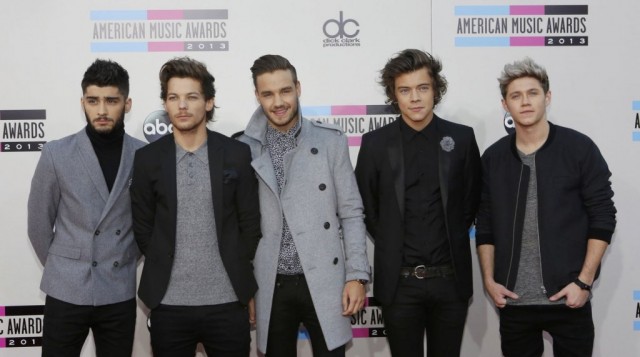 Anche quest'anno sono stati consegnati gli American Music Awards.
Le conferme, così come le sorprese, sono state davvero tante. Gli One Direction, per esempio, sono riusciti a ottenere il primato in diverse categorie, così come Katy Perry.
La boyband ha avuto la meglio sulla stessa Katy Perry, ed addirittura su Eminem, nella categoria "Artist of the year".
La serata con i vincitori andrà in onda qui in Italia proprio questa notte. Per vedere le esibizioni di Nicki Minaj, Jessie J, Ariana Grande, Taylor Swift, Lil Wayne, Jennifer Lopez, Iggy Azalea, Selena Gomez e tutti gli altri, basterà seguire gli aggiornamenti in diretta. A causa del fuso orario, la diretta degli AMA 2014 sarà alle 2 di notte dell'orologio italiano, ma potrà essere seguita solamente via Twitter grazie all'hastag #AMA2014.
A seguire, l'elenco delle diverse categorie con tutti i rispettivi vincitori degli AMA 2014.
Artist of the Year:
Iggy Azalea
Beyonce
Luke Bryan
Eminem
Imagine Dragons
John Legend
Lorde
One Direction
Katy Perry
Pharrell Williams
New Artist of the Year:
5 Seconds of Summer
Iggy Azalea
Bastille
Sam Smith
Meghan Trainor
Single of the Year:
Iggy Azalea Ft. Charli XCX – "Fancy"
John Legend – "All of Me"
MAGIC! – "Rude"
Katy Perry Ft, Juicy J – "Dark Horse"
Pharrell Williams – "Happy"
Favorite Male Artist Pop/Rock:
John Legend
Sam Smith
Pharrell Williams
Favorite Female Artist Pop/Rock:
Iggy Azalea
Lorde
Katy Perry
Favorite Band, Duo or Group – Pop/Rock:
Imagine Dragons
One Direction
OneRepublic
Favorite Male Artist — Country:
Luke Bryan
Jason Aldean
Blake Shelton
Favorite Album — Country:
Brantley Gilbert – "Just as I Am"
Garth Brooks – "Blame It on My Roots: Five Decades of Influences"
Eric Church – "The Outsiders"
Favorite Artist — Rap/Hip-Hop:
Iggy Azalea
Drake
Eminem
New Artist of the Year:
5 Seconds of Summer
Iggy Azalea
Bastille
Sam Smith
Meghan Trainor
Favorite Artist — Alternative Rock:
Imagine Dragons
Bastille
Lorde
Favorite Album — Pop/Rock:
One Direction – "Midnight Memories"
Lorde – "Pure Heroine"
Katy Perry – "Prism"
Favorite Artist — Latin:
Enrique Iglesias
Marc Anthony
Romeo Santos
Favorite Album — Rap/Hip-Hop:
Iggy Azalea – "The New Classic"
Drake – "Nothing Was the Same"
Eminem – "The Marshall Mathers LP 2"
Favorite Female Artist — Country:
Carrie Underwood
Miranda Lambert
Kacey Musgraves
Favorite Band, Duo or Group — Country:
Florida Georgia Line
Eli Young Band
Lady Antebellum
Favorite Female Artist — Soul/R&B:
Beyoncé
Jhene Aiko
Mary J. Blige
Favorite Album — Soul/R&B:
Beyoncé, Beyoncé
John Legend, Love in the Future
Pharrell Williams, G I R L
Favorite Artist — Adult Contemporary:
Katy Perry
Sara Bareilles
OneRepublic
Favorite Artist — Contemporary Inspirational:
Casting Crowns
Hillsong United
Newsboys
Favorite Artist — Electronic Dance Music:
Calvin Harris
Avicii
Zedd
Top Soundtrack:
Frozen
The Fault in Our Stars
Guardians of the Galaxy: Awesome Mix, Vol. 1