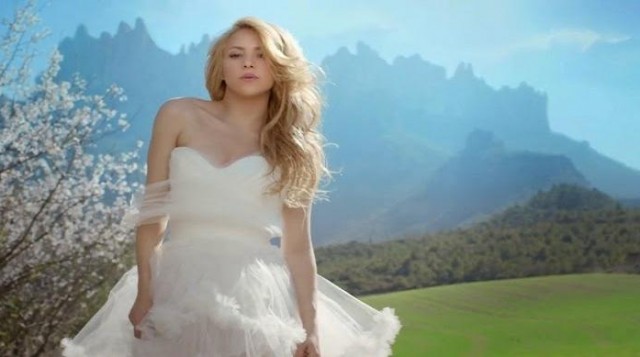 Ad essere maliziosi, si potrebbe pensare che il motivo per cui Shakira e Gerard Piquè non siano ancora convolati a nozze, nonostante tre anni di splendido fidanzamento e l'arrivo del piccolo Milan nel 2013, si trovi nel video di 'Empire', il nuovo singolo della cantante colombiana, seconda traccia, dopo 'Can't remember to forget you' estratta dall'album 'Shakira', uscito proprio ieri.
In case you missed it earlier, here's the amazing new video for Empire! (via @Vevo) http://t.co/Vm77hJGg7y ShakHQ pic.twitter.com/2pblMCReN5

— Shakira (@shakira) 25 Marzo 2014
Nella clip, anticipata da un suo tweet, la ragazza di Barranquilla compare in abito da sposa (con una posa che un pò ricorda Kirsten Dunst in 'Melancholia'), pronta a varcare la soglia della chiesa. In concomitanza col ritornello arriva l'inaspettata decisione di fuga: Shakira corre allontanandosi, mentre l'abito bianco si infiamma.
Ecco il video ufficiale di 'Empire', seguito dal testo della canzone.
Take off all of your skin
And brave when you are free
Shake off all of your sins
And give them to me
Close up, lemme back ye
I wanna be yours, wanna be your hero
And my heart beats
Like the empire of the world unite
We are alive
And the stars make love to the universe
You're my wild fire every single night
We are alive
And the stars make love to the universe
And you touch me
And I'm like and I'm like and I'm like
Oooo Oooo
And I'm like Oooo Oooo
And I'm like Oooo Oooo
I will follow you down wherever you go
I, I'm baby I'm bound to you and do you know?
Closer, pull me in tight
I wanna be yours, wanna be your hero
And my heart beats
Like the empire of the world unite
We are alive
And the stars make love to the universe
You're my wild fire every single night
We are alive
And the stars make love to the universe
And you touch me
And I'm like and I'm like and I'm like
Oooo OoooWe are alive
And I'm like Oooo Oooo
We are alive
And I'm like Oooo Oooo
I'm just gonna raise my head
Welcome to the final end
And I'm gonna fight
I'm just gonna raise my head
And hold you close
Like the empire of the world unite
We are alive
And the stars make love to the universe
You're my wild fire every single night
We are alive
And the stars make love to the universe
And you touch me
And I'm like and I'm like and I'm like
Oooo Oooo
And I'm like Oooo Oooo
And I'm like Oooo Oooo
And I'm like Oooo Oooo